Biography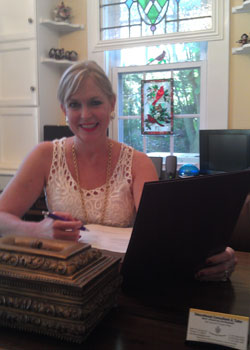 Mary Wharton Schroeder, certified teacher and a college entrance exam tutor, has served over 25 years in education. She has been a classroom teacher, a private tutor, and has volunteered her talents in high school college planning offices. Along with her professional experience she combines a thorough knowledge of the SAT and ACT. Mary shares this throughout the school year and in the summer with her students. She maintains a private practice for the Critical Reading and Written portions of the SAT as well as the English, Reading, and Essay portions of the ACT.
A native of Tampa, she led the educational committee that established the learning curriculum for the children at Metropolitan Ministries. Mrs. Schroeder also taught illiterate adults to read through the Laubach Literacy Association during her active years with the Junior League of Tampa and was featured as an exceptional volunteer by Tampa NBC-TV-affiliate WFLA. While teaching in the DeKalb County School System in Atlanta, Georgia, she was featured as an outstanding teacher in a Redbook magazine article entitled
"Are There Any Good Teachers Left?"
Mrs. Schroeder is a graduate of Florida State University with majors in Education and English. She has worked on her Master of Educational Leadership at Oglethorpe University and the University of South Florida. She is staying current on the changes in university and college admissions policies through frequent travel to campuses.
"As students reach the end of their high school years, I prepare many to master their college/university entrance exams. I have traveled to colleges and universities in order to remain current on trends, changes, and expectations on campuses and in their admission offices.

I consider each of my students and their needs individually. As a concerned, dedicated parent of two, I have personally dealt with the complexity of today's competitive admissions process. For each student with whom I work, I want to help the student meet with success on a personal and academic level and to ease his way through the process of furthering his education."
- Mary W. Schroeder
Mary is actively involved in her community, as mentioned in a
Tampa Bay Times
article.
Additional South Tampa Tutors
Tutors for PSAT, SAT, & ACT Math
"I consistently recommend Evan to parents and students. He excels in the math area and in his ability to successfully communicate with his students. Evan also excels in the ACT science section. He is the 'completion piece' for any of my students who also desire math preparation for the SAT, ACT, or classroom assignments."
- Mary W. Schroeder
Evan Jones is a former high school math teacher who now specializes in tutoring for all math classes grades 6-12 in addition to SAT and ACT Prep. He believes that a strong bond between students and their tutors is fundamental to creating an optimal learning environment. He excels as a coach to motivate and provide the direction students need to achieve maximum results. One of his former clients said it best, "As a person and leader, Evan is top notch. The enthusiasm, class, work ethic and positive energy that Evan brings raises all environments that he enters. By attacking his role at high schools and by being sought out for his tutoring prowess, Evan has proven that he can work with all levels of math achievers."
Consultant Specializing in Applications, Essays and Interview Preparation
Bob LeVine received a bachelor's degree from Harvard University, a law degree from the University of Cincinnati, and post-graduate education from the University of Tampa and the University of South Florida. Bob served as the Chairman of the Harvard Schools Committee for the West Coast of Florida, building upon twenty-nine years of interviewing for Harvard. Bob has unique knowledge of the admissions process used by the most highly-selective colleges and provides skills training (essays and interview preparation) for students seeking admission to any four-year college. As the head of Selective College Consulting, Bob offers one-on-one personal mentoring in flat rate and hourly formats, as well as private group sessions, Essay Workshops and Interview Bootcamps.