Biography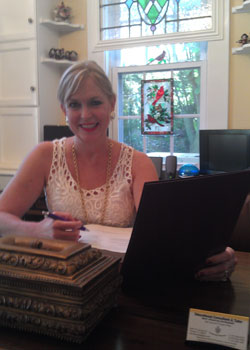 Mary Wharton Schroeder, certified teacher and a college entrance exam tutor, has served over 25 years in education. She has been a classroom teacher, a private tutor, and has volunteered her talents in high school college planning offices. Along with her professional experience she combines a thorough knowledge of the SAT and ACT. Mary shares this throughout the school year and in the summer with her students. She maintains a private practice for the Critical Reading and Written portions of the SAT as well as the Reading and English portions of the ACT.
A native of Tampa, she led the educational committee that established the learning curriculum for the children at Metropolitan Ministries. Mrs. Schroeder also taught illiterate adults to read through the Laubach Literacy Association during her active years with the Junior League of Tampa and was featured as an exceptional volunteer by Tampa NBC-TV-affiliate WFLA. While teaching in the DeKalb County School System in Atlanta, Georgia, she was featured as an outstanding teacher in a Redbook magazine article entitled
"Are There Any Good Teachers Left?"
Mrs. Schroeder is a graduate of Florida State University with majors in Education and English. She has worked on her Master of Educational Leadership at Oglethorpe University and the University of South Florida. She is staying current on the changes in university and college admissions policies through frequent travel to campuses.
Dear Parents,
The current version of the SAT will only be given three more times: October, November, and December of 2023. If your child begins his ten tutoring sessions with me for the Reading/Writing portion during the week of September 24th, s/he will have time to complete all of the recommended ten sessions prior to the (final) December test.
I encourage all juniors who are familiar with the current layout and particulars of this SAT test's format to sign up with me right away and give this version a final "shot" in November and December. Familiarity with any exam can count for a lot, and I promise that the new SAT as of March 2024 will be very different from the current one. The new test will be administered only on a computer; there will be no more paper/pencil test unless the student has special accommodations.
Please call/email/ or text today. I care about your child's success.
Best, Mary
P.S. FYI…..The October 2023
PSAT
will be the 2024 computer version of the new test whereas the October
SAT
will still be the current version (paper/pencil).
Mary Wharton Schroeder
813.340.4231
marystampa@yahoo.com
"As students reach the end of their high school years, I prepare many to master their college/university entrance exams. I have traveled to colleges and universities in order to remain current on trends, changes, and expectations on campuses and in their admission offices.

I consider each of my students and their needs individually. As a concerned, dedicated parent of two, I have personally dealt with the complexity of today's competitive admissions process. For each student with whom I work, I want to help the student meet with success on a personal and academic level and to ease his way through the process of furthering his education."

EXPERIENCE COUNTS and is crucial for a tutor to have for your child to succeed.
I have worked solely in this expertise for 20+ years. I know what you child needs to know and how to teach it. Don't let me forget to say, "I love what I do and care very much about your child's success."
- Mary W. Schroeder
Mary is actively involved in her community, as mentioned in a
Tampa Bay Times
article.
Additional South Tampa Tutors
Tutors for PSAT, SAT, & ACT Math
To complete the picture for those students who also have math needs, I have an ongoing SAT /ACT business relationship of many years with (in my opinion) Tampa's two best. Each is a math specialist whereas I am a reading and writing specialist. When we book for the Reading/Writing portion, I will ask you about your child's learning style and determine who is the very best suited for him/her. IMPORTANT: It is not at all necessary to prep for math in order to prep with me. I am an independent tutor who only makes this kind of recommendation in order to help you and your child if you have the need. I make no money for referrals. I just care.
Consultant Specializing in Applications, Essays and Interview Preparation
Bob LeVine received a bachelor's degree from Harvard University, a law degree from the University of Cincinnati, and post-graduate education from the University of Tampa and the University of South Florida. Bob served as the Chairman of the Harvard Schools Committee for the West Coast of Florida, building upon twenty-nine years of interviewing for Harvard. Bob has unique knowledge of the admissions process used by the most highly-selective colleges and provides skills training (essays and interview preparation) for students seeking admission to any four-year college. As the head of Selective College Consulting, Bob offers one-on-one personal mentoring in flat rate and hourly formats, as well as private group sessions, Essay Workshops and Interview Bootcamps.
Chad earned his undergraduate and graduate degrees at Point Loma Nazarene University in San Diego, California. The first four years of his career were spent as an Admissions Counselor for Point Loma, where he learned the ins and outs of the college admissions process. His Master's in Education with an Emphasis in Counseling ultimately led him to a private, college-prep high school in Denver, Colorado, where he spent ten years counseling students in the academic and college categories. Chad prioritizes traveling the country to visit colleges and learn their distinctions. He provides individual consultation on all things college-related, from choosing a major and building a list of colleges to the final touch-ups on a college application.
Chad Van Soest
Apex College Services
877.268.9405