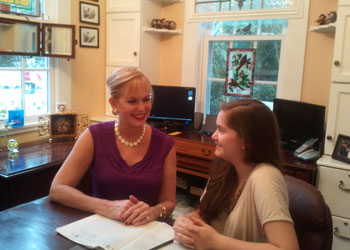 Below you will find testimonials from some of my satisfied customers. I've helped many students achieve excellent test results and I know I can help you do the same. I look forward to helping you and I am excited about the progress we will make.
"Mary Schroeder has helped prepare both my daughter and son for the SAT and ACT tests. My children have different abilities and learning styles, however, Mary was able to quickly tell what they needed and tailored her test preparation sessions accordingly. We were pleased to see their test scores improve dramatically after they'd been through Mary's SAT/ACT prep sessions!"
Anne T.
Plant High School Parent
"Mrs. Schroeder has been an amazing tutor for our daughter (and now for our son) in preparing for a competitive SAT/ACT score. Her individualized and targeted tutoring coupled with an array of tricks and strategies helped my daughter improve her reading score tremendously. I am sure my son will equally score a near perfect score! Mrs. Schroeder has always worked with our busy schedules to get in the lessons needed. I can highly recommend Mrs. Schroeder to any student wanting an improved and competitive score in the SAT / ACT. I thank her for her continuous time and dedication."
An Appreciative Parent of the class of 2023
"To be completely honest, before I started with Mrs. Schroeder, I was a bit doubtful that I needed help with the SAT, but after 10 very helpful sessions, my score went up over 300 points! Mrs. Schroeder doesn't only teach you how to take the SAT, she goes over the fundamentals of grammar usage, essay writing, and reading comprehension; each of these make the 2 hour lessons contribute to more than just SAT/ACT prep. I recommend Mrs. Schroeder (www.tampaSATprep.com) to everyone I know because 8 sessions with Ms. Schroeder are sure to help."
Waleed K.
Tampa Prep
"Before I had even finished the tutoring session or seen that Mrs. Schroeder had helped elevate my score 140 points to a 2250, I was already recommending her service to other students. Mrs. Schroeder not only teaches the materials on the SAT, but also the test itself. She teaches as if she created the test herself. She knows what is important, where the tricks are, what people miss most often, and how to improve scores significantly. It doesn't hurt that she cares more about her students than any other tutor possibly could."
Chip S.
Plant High School
"Mary, thank you! We truly appreciate your gift of preparing Jack for his ACT. He scored a 35 out of the possible 36 points. Prior to his tutoring his highest score was a 25. After the test he reported that it was long, not too tough and most importantly, that he felt well-prepared – thanks to you!"
Amanda S.
Jesuit High School Parent
"When our first child scored a perfect SAT Critical Reading score (800) after tutoring with Mrs. Schroeder, his dad and I were sure that she would be our choice for our daughter's preparation when her junior year arrived. As we have always been careful to avoid comparisons between our son and daughter, we appreciated Mrs. Schroeder's clear dedication to do the same. She treated them both as individuals with no prompting. Her innate concern reflected in both of our children in their confidence and final performance…so much so that our daughter also scored a perfect 800. When we called Mrs. Schroeder to share the wonderful report, we were very impressed that her response was an enthusiastic "Congratulations! Aren't we proud of her hard work?" We believe that this selfless attitude contributed to our children's success. So do they. We recommend Mrs. Schroeder to any parent seeking an SAT or ACT tutor."
A Proud Berkeley Family
"Mrs. Schroeder,
Thank you so much for all the valuable things you have taught me. My SAT scores increased dramatically, as well as my confidence as I was taking it. I was not afraid of the SAT after coming to you. I highly recommend you to all of my Academy sisters!"
Sophia G.
The Academy of the Holy Names
"My sessions with Mrs. Schroeder really helped me achieve the scores that I could only have dreamed of! After preparing for many hours, I was able to increase my scores by 350 points! My test taking abilities and confidence also improved immensely. I would recommend Mrs. Schroeder without a doubt to anyone wanting to raise their scores and conquer the SAT!"
Tommy H.
Wharton High School
"Mrs. Schroeder,
Your sessions enabled me to take the SAT with confidence. After hours of preparing with you, I felt familiar with the testing style and timing, so on the actual test day I felt relaxed. Your kindness, understanding, and patience provided the ideal environment to hone my test-taking skills. I am so grateful for your services, and I know I could not have gotten an 800 on my writing section and a 770 on the critical reading without your help! Thank you so much!"
Julia L
Robinson High School IB Program
"Mary is a wonderful tutor. She is patient, kind and an expert at preparing a student to take the SAT. My daughter felt an immediate connection with her and her SAT scores skyrocketed. I recommend Mary Schroeder for any student planning to take the SAT. She is a true professional."
Rachel F.
Carrollwood Day School Parent
"Mrs. Schroeder was my fantastic SAT/ACT tutor. She addressed my specific needs and helped me to feel much more confident on the test day. As a result of her lessons, my scores increased significantly. I looked forward to every session, knowing that I would not only learn lots, but also have a great time. Ms. Schroeder was fun, patient, and kind."
Lauren L.
Blake High School, IB program
"Mrs. Schroeder,
I learned so many things that I would easily have overlooked, and I went into the test with confidence! My score improved by 330 points and I owe so much to you!"
Plant High School Student
"Dear Mrs. Schroeder,
Since I am graduating from UF next week, I am writing "thank you" letters to all the people who have had an influence on me thus far. I want you to know that not only have you had an impact on my test scores and college admission, but your guidance and support have been invaluable to me!

Every time we met together I learned something valuable......whether it was about SAT/ACT prep or college essays or just where to get the best deals on dorm sheets (extra long) when that time came. I know that you care about the happenings in my life and my well-being.

Sooo…..thank you from the bottom of my heart."
Meg G
Former Academy of the Holy Names Student
"We want to thank you so much for your help with our daughter. We just received her scores and she made 100% Bright Futures. Thank you, thank you, thank you!"
Jane Mc.
Steinbrenner High School Parent
"Thank you for your guidance and tutoring. Sam enjoyed working with you (which was a delight for his father and myself as we never had to persuade him to go to the sessions or to do the homework). Best of all and the main reason that I am writing is to let you know that with the improvement in his SAT scores he was accepted to all three colleges he applied to!"
Jill M.
Wharton High School Parent
"Thank you for helping Thomas and Robert. Two boys with scores that will now get them where they need to go! Put us on your list for next Spring's SAT prep…..son #3 will be coming your way!"
Rebecca M.
Tampa Catholic High School Parent
"Mary is an honest and caring tutor. She is helping my child improve her reading and writing skills for the SAT and it has been a blessing for my child.I will recommend her totally and when my second child is in need of Mary for SAT preparation we will continue having Mary be a part of our lives. Greatly appreciated."
A Plant High School Parent
"Thank you so much for your help on the SAT exam. Your straightforward explanations allowed me to learn how to take the exam in an extremely effective and quick manner. Your unique insight regarding the nature and grading of the test provided me with invaluable information and understanding about the test that allowed me to drastically improve my score on the writing portion. I would recommend your services without hesitation to anyone who needs help on the SAT or ACT."
Dante Grieco
King High School Student (I.B. Program)
"I learned about Mrs. Schroeder from a friend of mine that had sent her daughter to her. She told me the tutoring and instruction that her daughter received made all the difference in her confidence and subsequently her scores on the SAT. I set out to learn more. I spent well over an hour on the phone with Mrs. Schroeder before ever committing to the tutoring. Her insight not only gave me confidence that I had found my daughters tutor, but helped me put in place a plan for my daughter to best ensure her success on the SAT and ACT tests. Since my daughter was presented with conflicts on most SAT dates within her junior year because competition dates for her sport fell on those same days, I knew that she had fewer chances to get the scores she needed and that made tutoring even more critical. The first day my daughter met Mrs. Schroeder, she loved her. She inspired her to work hard and it paid off. She went into the test feeling totally confident and capable of doing her best. She said the vocabulary she had studied made the test very easy. She laughed as she told me the other students must have thought she was crazy because she wrote notes down the sides of the test the way Mrs. Schroeder had taught her. She used all the essay format information she learned and felt very proud of the essay wrote. Knowledge is important, but strategy and mental preparedness are equally important too. Many students suffer test anxiety and no matter how smart they are, their test results don't reflect their capabilities. Mrs. Schroeder's methods prepare the students on all these levels. I cannot thank her enough for what she gave my daughter and I have recommended her to many of my friends already. Anyone fortunate enough to tutor with her, has a huge advantage and should count themselves amongst the lucky ones. As a parent, some of the best gifts I can give my child are the skills and confidence to go out and reach for her dreams. Mrs. Schroeder makes that gift a little easier to give."
Teresa K.
Steinbrenner High School Parent
"Entering my junior year of high school, I knew that there was going to be much stress caused by juggling school work with the ever important SAT and ACT's. I thought that I would never be prepared for these tests. I hoped somehow I would be able to get the scores that would ensure my acceptance to the University of Florida, my dream college. It turned out that stressing out about preparation was something I did not have to worry about because I had Mrs. Schroeder as a tutor. From the first lesson, she taught me tricks and tips to succeed with the SAT's. I was blown away by how much I could learn in 8 weeks. I walked into the testing center more confident than I thought was possible because I knew what to expect. On the test, I saw strategies and vocabulary that Mrs. Schroeder taught me and I couldn't help but smile as I bubbled in my answers with much assurance. A day after the SAT's, I took her one day session for the ACT and I was ready to conquer yet another gateway to UF. That same week, I took the ACT and felt just as confident as I did with the SAT. Had it not been for Mrs. Schroeder's patience, skill, kindness and professionalism, I would have never been as prepared for these tests as I needed to be to succeed. I am currently awaiting my results and, in a year from now, hopefully my acceptance to the University of Florida."
Kristen K.
Steinbrenner High School Student
"Mrs. Schroeder is a wonderful and inspiring person. She has helped me so much with the SAT especially with vocabulary and reading comprehension, I'm so glad that I have improved, but it's all because of her. I wouldn't know what to do without her, I really appreciate that she's done everything for me so that I can succeed and that she has enough patience to help me since English isn't my first language. Every time that I have an appointment with Mrs Schroeder I look forward to it because I know it will do me good. I'm so happy that she's my tutor because I feel like I really understand how to take the SAT. Before I was completely lost. Also, her skills are the best. Even when you're not sure about something, she knows. Mrs. Schroeder will never give up on you. She will explain it to you until you get it which is why I look up to her. I tell her, "Thanks, Mrs. Schroeder for everything. I really appreciate it..and I'm sure my sister will look forward to tutoring with you once it's her time. You will always be known in my house and never forgotten."
Daniela M.
Plant High School Student
"Hi Mary - You tutored our daughter in the fall of 2019. I am happy to report that she is now at the University of Florida! We so appreciate all of the counsel and mentoring you provided for her in the SAT/ACT arena. We found that even though her GPA was extraordinary, these standardized tests mattered a great deal to those elite schools she was trying to get in to."

"Now it's time to start on her brother and his journey for college admissions. We would once again love to have your counsel and tutoring services."
Dara L.
A Proud Plant Panther Parent